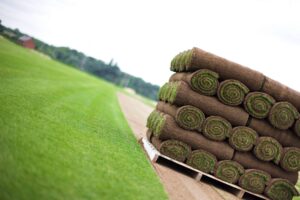 East Grinstead Lawn Turf Laying From Only £3.49 Per Sq/Metre
Best value new lawn installation specialists for East Grinstead and all of the South East.
Surrey
Essex
Kent
London
South East
We are proud to be a family business with more than 100 years combined experience carrying out a lawn turf laying service including full garden preparation throughout London, Kent, Surrey, Sussex, Essex and all of the home counties. With turf laid from just £3.49/sq.metre we offer exceptional value for money for the high quality lawn turf and topsoil we install. No matter what state your garden is currently in, our full turf gardening service will quickly transform it with a thriving new grass turf lawn installation. Please use our website to find out more, and to get your free, no-obligation quote for our full garden lawn re-turfing service.
---
Full Garden Preparation
No matter what state your garden is in currently we'll prepare it ready for turf laying.
High Quality Materials
We supply excellent-grade topsoil and lawn turf to ensure your beautiful new lawn thrives.
Low Prices & Online Quotes
Take advantage of our March offer and get 20% off by getting your quote today!
Ready to start your new lawn?
Fill out our simple form and we'll get back to you as soon as possible with a detailed written quote.
Lawns for every location
Whether it's an old lawn that's seen better days, bare, solid soil or completely overgrown, the Lawn Turf Laying Co. can help with a full service from ground preparation to new turf installation.
Satisfied Customers
---
We're proud of the high level of service we provide. Read some of the great feedback we've received from just a small selection of the many satisfied customers the Lawn Turf Laying Company have worked with in recent times.
We used this local company to replace 100 Sq m of turf. Emma replied to my emails and messages very quickly, and a very quick appointment was made. The actual laying was quick and efficient, and good quality. The price was very competitive. Overall I would highly recommend this company.
Cant speak highly enough of these guys! Excellent service before and after completion and our once uneven patchy lawn now looking amazing. Highly recommend this company
I had over 200 sqm of lawn laid for a pair of semi detached houses I am building. Great service from Emma , easy to deal with and cost very competitive. Results were very good ,lawn laid in two days in December just before snow. would recommend without hesitation .
Good service, on time, good product
Michele Vickery
2022-11-27
We are extremely pleased with the new lawn and surprised how quickly the work was done. We would definitely recommend this company.
Very good from start to finish. Three guys on the job to re-turf my small front lawn, finished in less than two hours. i will be asking them to re-turf my back lawn
The contact with Emma was efficient and friendly. She was able to get me booked in fairly quickly and I am delighted with the result. My lawn was laid in the pouring rain but the men didnt complain and were very speedy. I could not be more pleased with the result.
P and H Holgate
2022-11-16
Brilliant work. Transformed our garden immediately. The workmen were very accommodating. Emma in the office was superb with all our different queries and responded immediately .
Christine Le Jeune
2022-11-10
The day the new turf was layed was extremely wet, which may have been good for the lawn but less pleasant for your team. Despite the conditions, they were efficient, cheerful and helpful.
Very easy and friendly communication. Useful help to finalise requirements. Turf arrived as planned and provided an excellent lawn.